GETEILTE GESCHICHTE Viyana-Beč-Wien
WIENMUSEUM 2018
Videoinstallation

Regie: Karin Berger // Kamera: Manfred Neuwirth // Ton / Schnitt: Dariusz Kowalski // Ausstellungsarchitektur: Conny Cossa / Maximilian-Paul Hertz // Produktion: Medienwerkstatt Wien // Grafik: Studio Es // KuratorInnen: Vida Bakondy, Gerhard Milchram
mit:
Cahit Çakir // Ali Gedik // Slobodanka Kudlaček-Ritopečki // Niko Mijatović // Zorica Mijatović // Durda Srbovan // Vasilija Stegić // Gülgün Stoiber // Nurten Yilmaz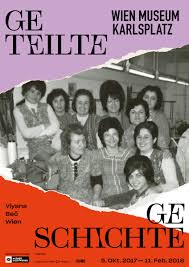 Die Arbeitsmigration von Jugoslaw_innen und Türk_innen hat die Stadt Wien seit den 1960er-Jahren entscheidend geprägt und verändert. Auf Basis von Objekten und Materialien, die im Zuge des Projektes "Migration Sammeln" im Wien Museum bewahrt wurden, entstand die Ausstellung Geteilte Geschichte. In überlebensgroßen Videoprojektionen erzählen die neun Protagonist_innen von ihren Ankünften und Lebenssituationen in Wien und wie diese mit bestimmten Objekten verbunden sind.

Labour migration from former Yugoslavia and from Turkey has made its imprint on Vienna since the 1960s and has wrought substantial changes in the city. Recruiting agreements concluded at the time sought to help Austrian businesses overcome an acute shortage of domestic labour. Among the migrant workers who came to Austria, many believed they would take a job here for a while to save up for a better life in their home countries. But the plans for non-permanent working arrangements turned out to be unrealistic in many cases. Workers were joined by their families, and migrants founded civic associations, opened shops and other businesses – and kept postponing their planned return.
Using objects and materials which Wien Museum acquired through its project "Migration Sammeln – Collecting Migration" in 2015-16, the exhibition "Moving history. Viyana - Beč - Vienna" has been designed to give visitors insights into the daily lives of migrants – at work, at school and in their spare time. Many of the items on display are unspectacular as such, but all of them are intimately linked to personal memories and tell many different stories, speaking of personal experiences and life events.
Publikation:
Schere Topf Papier. Objekte zur Migrationsgeschichte. Arif Akkiliç, Vida Bakondy, Ljubomir Bratić, Regina Wonisch (Hg.), Mandelbaum Verlag.
Im WIENMUSEUM bereits vergriffen